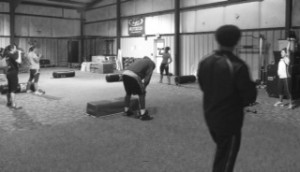 GB DW (daily workout)
50 Jumping Jacks
For Best Time – 10,9,8,7,……1  Squat, Pushup, Situp
Perform 10 Squats, 10 pushusp, 10 Situps.  Then do 9 squats, 9, Pushups, 9 Situps, and so on all the way down to 1 rep of each.
This pic is from our 8:45 SuperFit workout group knocking it out this morning after a long Thanksgiving holiday break.  They had a great workout this morning and we were excited to get everyone BACK ON IT DOG'ON IT! 
You know that we talk a lot about the POWER OF YOUR WORDS here at God-Built.  We discuss this with all our members on site in all our programs, and also right here on godbuilt.com.  We believe in this Truth, and we believe it is extremely important to keep it in the forefront for all of us.  Your words are powerful because God made it that way.  He made it that way so that you could have a Powerful Tool to steer your health and life in the correct direction.  One thing you can be guaranteed of is you will become, and or at least live out, what you truly believe in your heart.  And what you truly believe in your heart shows up in your words, and in your consistent actions.  If you do not like what you are believing and therefore seeing in your health and life, then follow these steps for a change:
Find out what HIS Word says about you and your health and life.
Get that, what HE says, settled in your heart as Truth for you, no matter what it looks like or feels like at the current time.
If you need to get this into your heart as Truth, but you are having a tough time with it, USE YOUR WORDS.
Use your Words ON PURPOSE and IN FAITH, that as you speak His Words over your health and life, that Truth will become settled in your heart and your new belief/s.  Basically SPEAK those Truths over your health and life, the whole time expecting that it changes what you believe , think, and how you act.
Be open to hear God for any specific "natural" thing you should do to improve your health and or life.
Keep Using that Powerful Tool HE gave you, your Tongue, to speak His Truths about you. 
Keep choosing to Think only on His truths.
Keep EXPECTING His Abundance of health and life prosperity, in your life.
Be Thankful.
Help Others.
And there you go.  There is a pretty simple, and very Powerful process for seeing improvement in your life, every area of your life.  Simple does not mean it is going to be easy, but it will produce great Results when followed Consistently.  And the Reward is definitely worth the price you pay.  Remember we are all in this thing together.  We are all working towards living and experiencing His Best in our lives.  Lets all keep encouraging each other.  Lets keep telling THE ALMOST TOO GOOD TO BE TRUE NEWS!  Lets all GET ON IT AND STAY ON IT DOG'ON IT!
YOUR HEALTH, YOUR LIFE, YOUR CHOICE  Godbless u kj