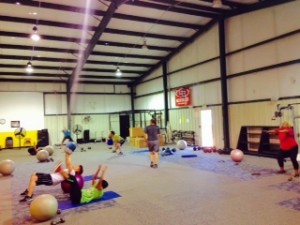 GB
Encouraging Word: Your mind is a powerful tool that you can control and use to steer your health and life in direction of good change.
Nutrition – Cut back on grains.  Add in 1-3 fruits/vegetables
Exercise – Start a Exercise program with a friend/s
The above pic is from one of our SuperFit workouts here at God-Built.  Most anyone at any level of fitness can join in on these workouts with us and do great!  Just like we tell everyone here at GB, "The magic (power) is not in the program.  The magic (power) is in you."  You make a program work for you.  Do not go at improving your fitness like playing the lottery, and "try something to see if it will work".  That most likely will not turn out good. 
This is going to be our best year yet!  Make that your statement for this great year 2016! 
YOUR HEALTH, YOUR LIFE, YOUR CHOICE  Godbless u kj